2023 Tiguan Towing Capacity Guide: Specs, Packages, & Accessories
Home
>
New VW Tiguan Inventory
>
VW Tiguan Towing Guide

If you're interested in the 2023 VW Tiguan towing capacity, this towing comparison chart by model year is for you. Our team is here to help you spec your new Tiguan lease, compare trim models, and review the 2018-2023 VW Tiguan towing capacity so that you can safely travel with heavy loads.
Tiguan Towing Capacity & Specs
For starters, we're talking about the generation of new Tiguan SUVs from 2018 to 2023. These models are equipped with a 2.0-liter turbocharged engine that produces 184 horsepower and 221 pound-feet of torque. 4MOTION AWD is recommended as this helps with overall tracking and stability. Our technicians will also need to install the factory tow kit that includes all hardware and electronics necessary for proper trailering.
Your eight-speed automatic transmission is geared for plenty of low-end torque so that you can easily pull 1,500 pounds.1 After you compare the 2023 Volkswagen Tiguan towing capacity, shop VW Tiguan SUVs and explore our exciting lease deals.
VW Tiguan Towing Capacity (2018-2023): Chart & Specs
| | | |
| --- | --- | --- |
| Model Year | Tiguan Towing Capacity | Tiguan Payload |
| 2023 VW Tiguan | 1,500 pounds1 | 1,127 to 1,422 pounds |
| 2022 VW Tiguan | 1,500 pounds1 | 1,237 to 1,416 pounds |
| 2021 VW Tiguan | 1,500 pounds1 | 1,246 to 1,446 pounds |
| 2020 VW Tiguan | 1,500 pounds1 | 1,246 to 1,446 pounds |
| 2019 VW Tiguan | 1,500 pounds1 | 1,235 to 1,470 pounds |
| 2018 VW Tiguan | 1,500 pounds1 | 1,235 to 1,470 pounds |
As you can see over the last several years, Volkswagen designers have aimed for a specific range of towing and payload performance that best fits the frame and power of this midsize SUV.
Know Before You Tow in South Florida
Thankfully, Florida is flat. Overcoming that initial heft to get rolling is much easier than places where you might be staring up the incline of a mountainous switchback. However, whether you drive over mountains, rolling hills, or coastal stretches, there are some useful tips for towing with your VW Tiguan that you need to know for a safe towing experience.
Have a pair of good work gloves. This often-disregarded tip can save your hands from scrapes and pinches while latching/unlatching.
Anticipate your route. Thinking about the road ahead will prep you for turns, hills, and maneuvers that you will need to make.
Left is right, and right is left. If it's your first time towing, you'll likely spend a few frustrating moments trying to park your trailer while going in reverse. Your trailer will not turn in the direction you intend. While in reverse, if you want your trailer to go left, turn your wheel to the right. The same goes for the opposite.
Keep to the right. You'll be moving slower. You will take longer to pass, longer to slow down, and longer to see traffic around you. You're rolling like a big rig now, so act like one. Take your time.
Have some fun. Now that you're towing with a VW Tiguan, you might as well sound like one. You can say things to your passengers like, "We gotta keep a double nickel on our way to Cigar City, so we don't use up too much go-go juice." This translates from "trucker" into English as, "We'll go 55 mph on our way to Tampa so that we don't burn too much fuel."
There's nothing quite like exploring the full capabilities of your 2023 VW Tiguan towing capability. Get out there and enjoy everything that your busy lifestyle has to offer!
How Much Is 1,500 Pounds?
Now that you know the 2023 VW tiguan towing capacity is 1,500 pounds,1 you might be wondering what that means in tangible terms. It might be more than you think. With this vehicle, you can tow things like:
Small watercraft, such as canoes, Jet Ski models, and swamp-cruisers
Dirtbikes, ATVs, quads, and snowmobiles
Motorcycles
An adventure trailer
Teardrop campers
A grand piano
Never tow more than the recommended rating. Your vehicle is not designed for it, and doing so can compromise the steering, braking, suspension, powertrain, and hydraulics. Remember, you want your towing experience to be "easy on the eights." That's trucker talk for "a pleasant trip."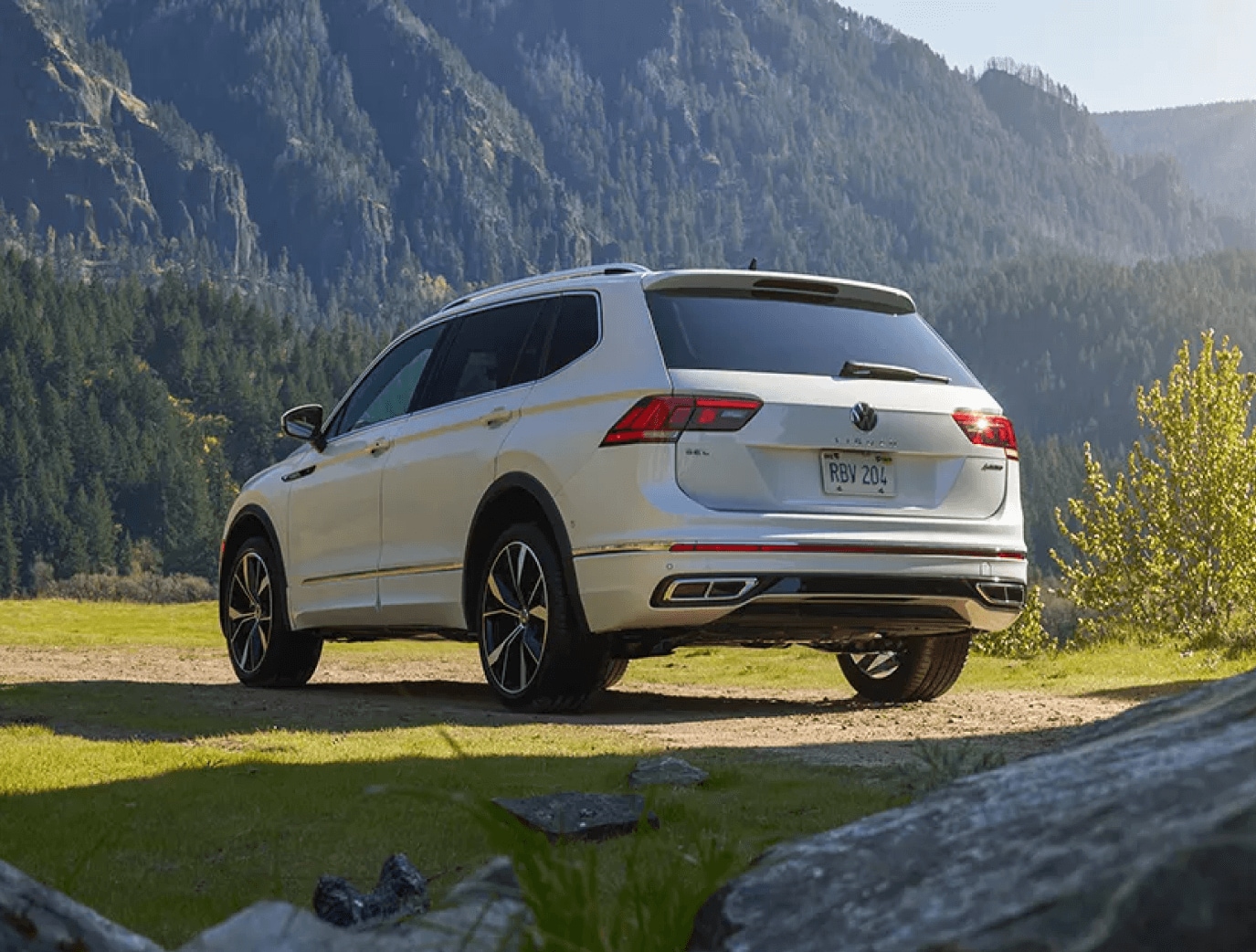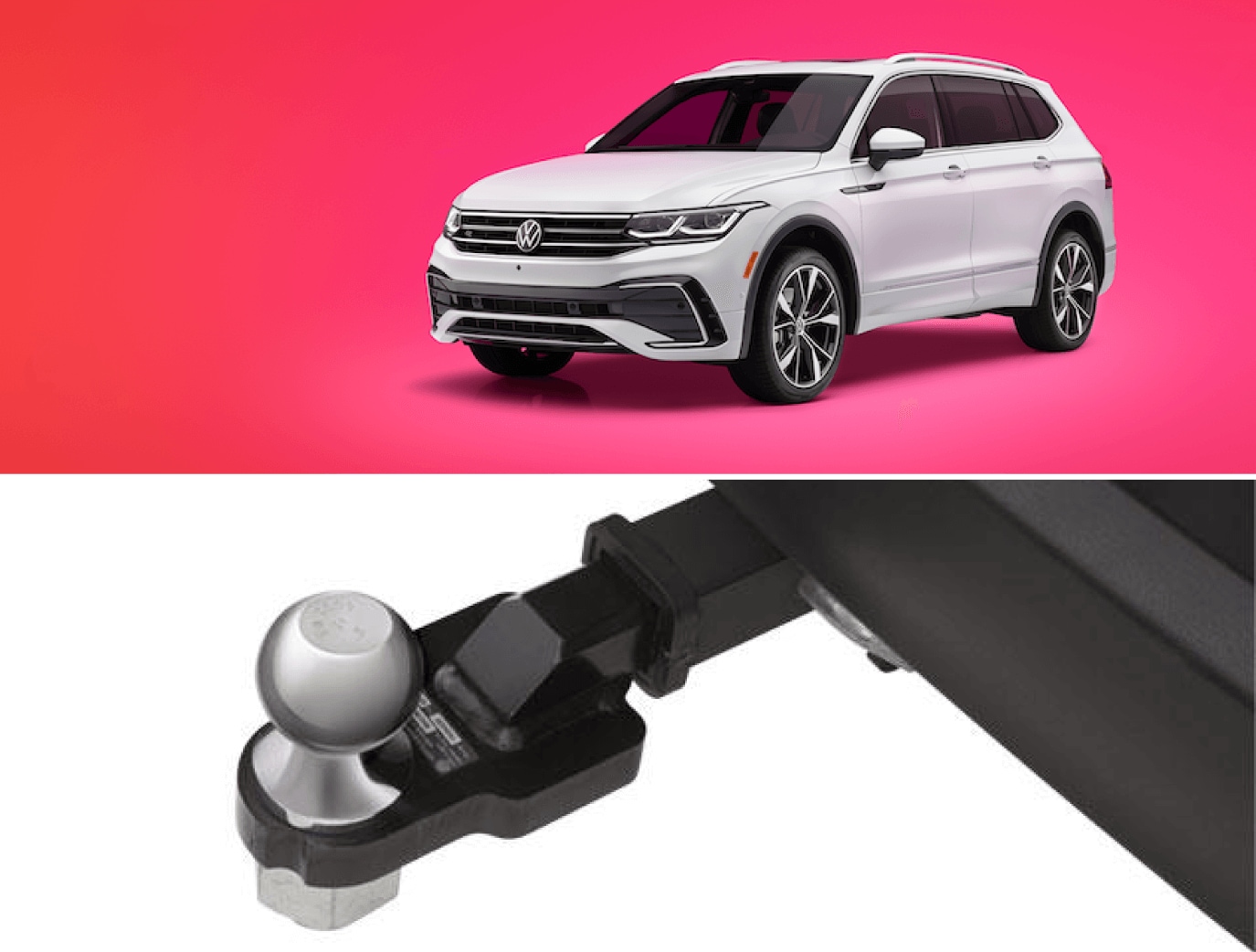 Get Hauling With the VW Tiguan Towing Accessories
Knowing the full potential of your 2023 Volkswagen Tiguan towing capacity is only half the battle of hauling; the other is equipping your Tiguan SUV to get the job done. Naturally, a few vital VW Tiguan towing accessories are necessary to get out there with a trailer in tow. At Gunther Volkswagen Delray Beach, our VW parts and accessories department can help you get it all and prep your Tiguan with convenient installation.
So, what kind of VW Tiguan tow accessories will be required? The first is a genuine VW tow hitch, as you won't be able to hook up a trailer without it. On that hitch, you'll need a ball and ball mount to connect your trailer, and the VW towing accessories catalog has several types. Of course, your Tiguan has to be able to communicate with your trailer's brake lights and monitoring features, and a genuine VW trailer hitch electrical kit will do precisely that.
A VW Tiguan towing package and hitch kit conveniently combines the towing essentials. No matter which towing accessories you need for your Tiguan, we're here to help; contact our VW accessories department to get started on your search, find competitive prices for your desired VW Tiguan towing accessories, and schedule installation with our service center.
Frequently Asked Questions
Can the VW Tiguan tow?
Yes, the Tiguan is a standout midsize SUV for its three-row layout and its ability to tow up to 1,500 pounds.1 This maximum towing capacity applies to VW Tiguan SUVs from the 2018 to 2023 model year. Before you get out there and use it, you'll need some essential VW Tiguan towing accessories; contact our parts department to order the towing equipment your Tiguan needs. You can also check your owner's manual before you reach out.
Can a VW Tiguan tow a trailer?
From model years 2018 to 2023, the VW Tiguan towing capacity tops out at 1,500 pounds.1 This towing figure is enough to accommodate many types of trailers, including open utility trailers, various pop-up campers, and adventure trailers. If you're looking for a VW SUV that is capable of towing more than double this weight, ask our team about our VW Atlas specials.
Can you put a tow hitch on a VW Tiguan?
Yes. Several tow hitches and towing accessories are available for your VW Tiguan. Browse our catalog of VW Tiguan towing accessories today to discover the range of VW Tiguan tow hitch options, find the other towing essentials like a VW tow hitch electrical kit, and visit our service center for convenient tow-hitch installation.
---
Need More Information About The VW Tiguan? Contact Us!
* Indicates a required field
Continue Your VW Research:
---
1Maximum tow rating when equipped with 2.0-liter engine and factory-installed towing hitch. Vehicle load, other accessories, and options may reduce maximum towing capacity. See vehicle Owner's Manual for details.