2023 Volkswagen Tiguan For Sale Near Boca Raton, FL

Expand or Narrow Your VW Tiguan Inventory Search Using These Convenient Quick Links:
We're sorry, availability of some equipment, options or features may be limited due to global supply issues affecting the auto industry. Please be sure to verify that the vehicle you purchase includes all expected features and equipment.
Volkswagen Tiguan Overview
The 2023 Volkswagen Tiguan for sale at our dealership in Delray Beach, FL, is a dynamic crossover SUV that offers versatility, style, and power. It enjoys an available third row of seating that is rare in its size class. This is not the only way in which this incredible vehicle stands out from the competition – its safety features are excellent, and it also boasts an astonishing array of luxuries, even on the base model.
This SUV uses a turbocharged 2.0-liter four-cylinder engine that makes 184 horsepower. It comes standard with front-wheel drive, but VW 4MOTION all-wheel drive is available. The slick automatic transmission lets you climb through the gears quickly, making acceleration smooth and enjoyable. If you like driving near Boca Raton, FL, you'll have a blast in the new Volkswagen Tiguan for sale.
Now it's time to take a dive into the VW Tiguan design, technology features, trims, colors, safety details, and more. We think this vehicle is a superb choice for drivers because it provides a compelling mix of performance, utility, and style. Read on to learn more about the muscular 2023 VW Tiguan for sale.
Volkswagen Tiguan Design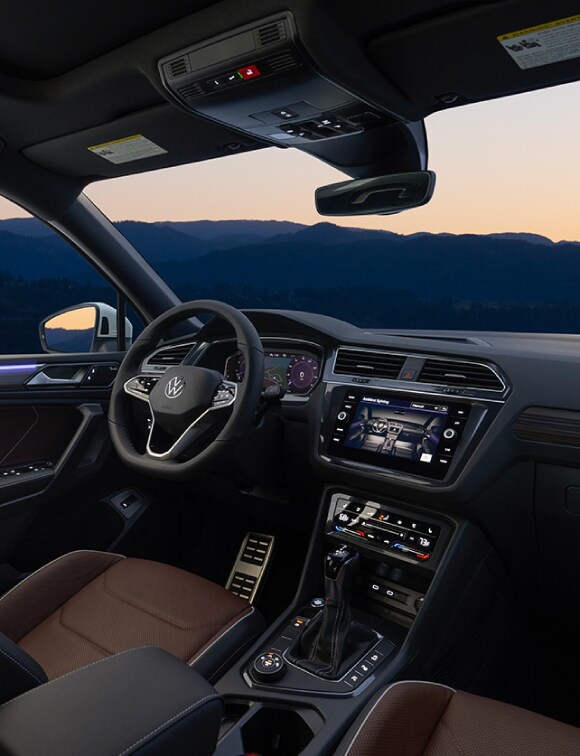 2023 Volkswagen Tiguan Interior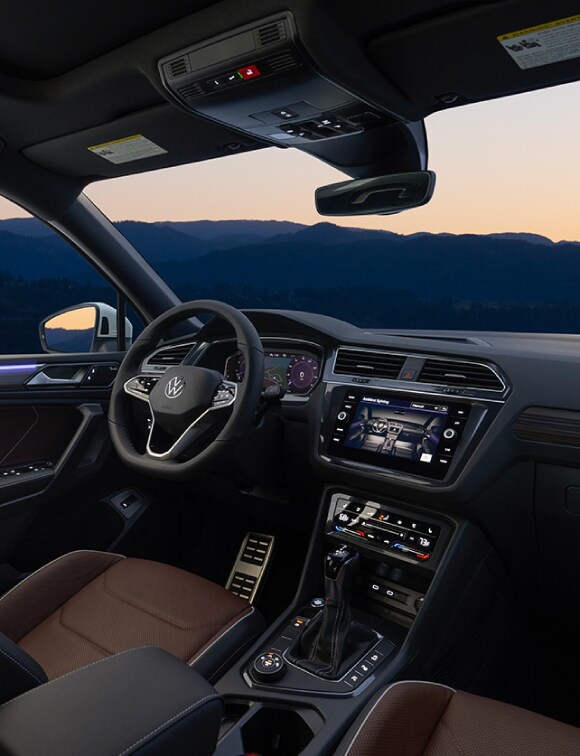 The cabin of the new VW Tiguan for sale is refined and comfortable. The seats are well-designed, allowing everyone to stay relaxed, even on longer drives. Every version of the vehicle enjoys heated front seats, the high-tech VW Digital Cockpit, and second-row air ventilation. These features will help keep everyone comfortable as you drive around in Delray Beach, FL, in this powerful SUV.
The mid- and top-tier trims offer drivers even more luxuries than the base model. The SE version of the car has leatherette seating and a leatherette-wrapped steering wheel, dual-zone automatic climate control, and wireless charging capability for your compatible devices. The top-of-the-line SEL R-Line model adds full leather seating, ventilated front seats, and a Fender premium sound system with a subwoofer to the mix.
The third row of seating available for the 2023 VW Tiguan for sale is perhaps the most compelling feature of the vehicle. SUVs of this size class generally don't have this option. And since the seats can be folded down, the car doesn't sacrifice its cargo-hauling capabilities just to get the extra seating.
2023 Volkswagen Tiguan Exterior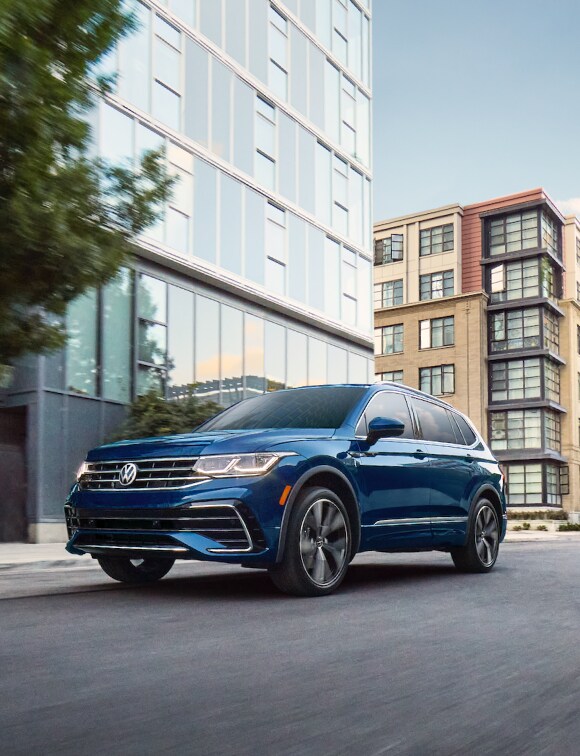 The 2023 Volkswagen Tiguan for sale has a stylish exterior design, highlighting sleek angles all around. It boasts a variety of aesthetic and functional improvements. The car now features powerful new LED headlights, redesigned bumpers in the front and back, and revised wheel design options for drivers to enjoy. These new design elements complement the overall aesthetic of the car, which is refined and stylish.
While there are many shared elements of the vehicle's design across its different trims, some goodies are not available on every version of the SUV. The SE trim, for example, boasts 18-inch alloy wheels with all-season tires. The 2023 VW Tiguan SEL R-Line adds available 20-inch wheels and an integrated light bar in its front grille.
This leads us to an important point: While every trim is sleek and stylish, you can customize a VW Tiguan to suit your preferences. There are multiple trims and colors to choose from, in addition to available technology packages and aesthetic upgrades. You and your passengers will have a blast driving your new VW Tiguan near Boca Raton, FL.
Volkswagen Tiguan Dimensions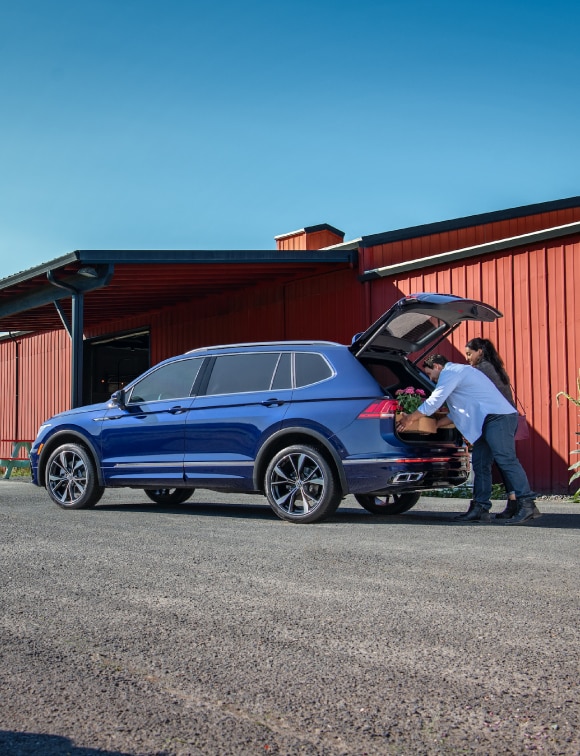 The dimensions of the VW Tiguan are well-suited to a family-friendly SUV. The vehicle is 186.1 inches long, 72.4 inches wide (without the mirrors), and 66.5 inches tall. These dimensions offer 124 cubic feet of passenger space – a number you'd be more likely to find on a midsize or full-size SUV – and a maximum of 73.4 cubic feet of cargo space with the seats folded down.
If you've been dreaming of taking the family on vacation, you'll find this SUV is built for the task. If you can fit the family in the front two rows, you'll have plenty of space for everyone's gear in the back. Folks with bigger families can take advantage of the VW Tiguan towing capacity to bring along a small trailer for supplies or a small boat.
The Volkswagen Tiguan for sale is in the sweet spot for vehicle size. It offers a spacious cabin without being such a large car that it's difficult to park or maneuver. This makes it perfect for drivers who like to haul people or cargo but don't enjoy making 12-point turns when trying to get out of a tight parking spot.
Volkswagen Tiguan Technology Features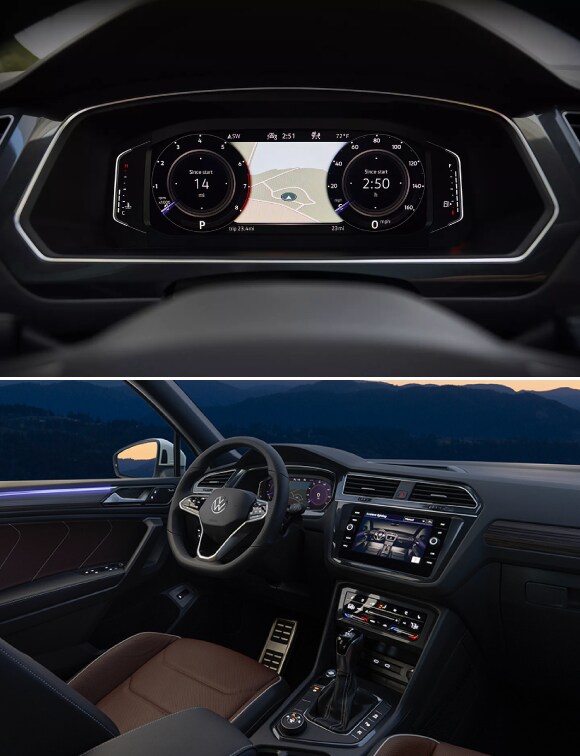 VW Tiguan Digital Cockpit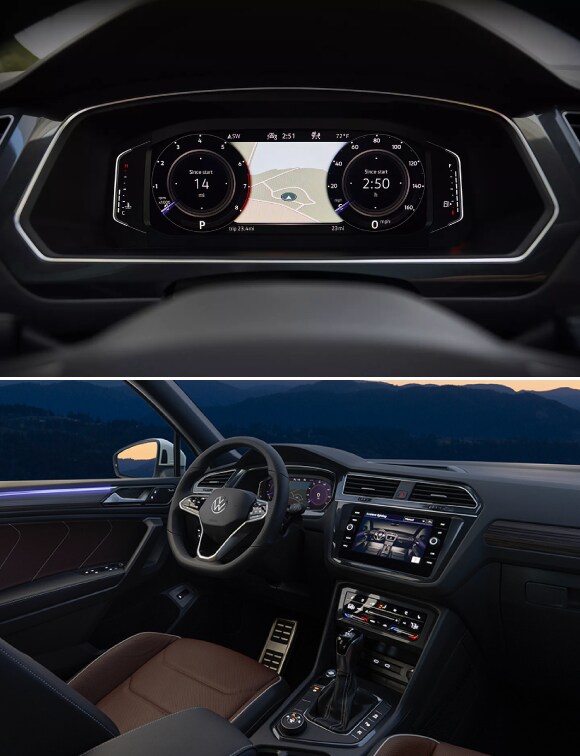 The VW Digital Cockpit is a beautiful innovation that displays all the information you want to see in a clean and concise fashion. The standard digital display is 8 inches across and rests in the dashboard, where you can easily glance at it.
The screen can be configured to match your preferences. There are default settings that display the information usually found on an analog dashboard, but you can customize them to show the vehicle performance details that you deem to be the most important. The screen can also be used to provide you with navigation information, making it quite versatile.
The 2023 Volkswagen Tiguan for sale can also be equipped with the VW Digital Cockpit Pro. This larger screen has enhanced navigation abilities and is easier to read. Folks who rely on the technology in their vehicle to help them get around in Delray Beach, FL, may well find this to be a worthwhile option for the 2023 Volkswagen Tiguan for sale.
VW Tiguan Driver Assistance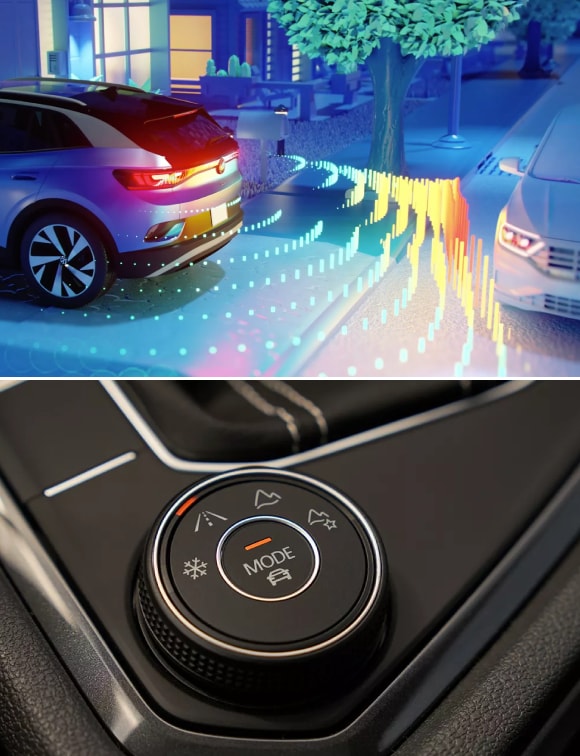 Volkswagen automakers place a premium on safety. Nowhere is this made more evident to drivers than in the sweeping lineup of safety technology and features in the VW Tiguan. Half a dozen stability-enhancing systems work to help keep you protected on the road. These range from Electronic Stability Control to Electronic Brake-Pressure Distribution, which helps you out when you brake suddenly.
The available IQ.DRIVE suite of features goes even further. It has an active blind-spot monitor that helps you avoid collisions when switching lanes, adaptive cruise control, and lane-keeping assistance technology. Safety features are certainly not a substitute for safe driving, but these technological advances can help you drive more safely on the roads and highways near Boca Raton, FL.
IQ.DRIVE also includes rear alerts that help you back up, front assist that warns you about potential collisions, and emergency assist technology that automatically brings the vehicle to a stop in an emergency. The vehicle does warn you ahead of time and allow you to continue traveling; it only activates this feature if the driver is unresponsive.
VW Tiguan Wireless Charging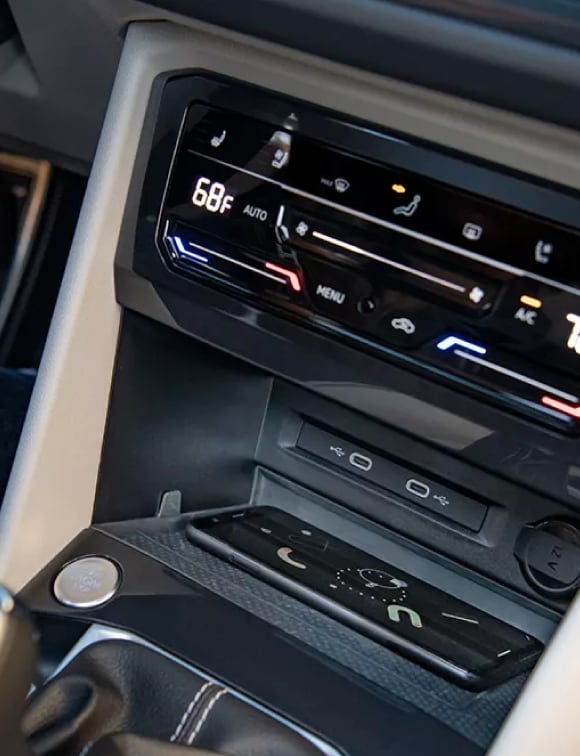 In addition to the excellent safety technology on the 2023 Volkswagen Tiguan for sale, the SUV boasts a great lineup of luxury features. Wireless charging is one of the most attention-grabbing because it's so futuristic. Just a few years ago, we were plugging flip-phones into bulky chargers. Now, you can rest your pocket-sized computer on a special surface and see it recharge quickly.
This is not the only compelling luxury feature available on the 2023 VW Tiguan. You can use your Android™ or Apple® smartphone to control music and navigation in your car. VW Car-Net Safe & Secure and VW Car-Net Hotspot bring connectivity to your passengers so that they can connect their devices using the built-in Wi-Fi hotspot. There's also an available powered panoramic moonroof that can bathe the interior of your SUV with light, be it that of the sun or the stars. The kids will be thrilled by this feature when you take them on that family vacation.
The wide array of Volkswagen Tiguan packages enables you to customize your vehicle with additional technology and features. This ability to pick and choose the features that match your preferences is a compelling part of buying a new VW Tiguan for sale in Delray Beach, FL.
2023 Volkswagen Tiguan Specs
| | |
| --- | --- |
| EPA Class | Small SUV |
| Seating Capacity | 5-7 |
| Engine | 2.0L turbocharged inline four-cylinder |
| Horsepower | 184 hp @ 6,000 rpm |
| Maximum Torque | 221 lb-ft @ 1,900 rpm |
| Fuel Requirement | Regular Unleaded |
| Valvetrain | DOHC |
| Drivetrain | Front-Wheel Drive (AWD is available) |
| Fuel Tank Capacity | 15.3 gal |
| EPA-estimated MPG (City, Highway, Combined) | 23/30/261 |
| Passenger Volume Without Sunroof | 124 cu ft |
| Payload | 1,157 lbs |
Volkswagen Tiguan Trims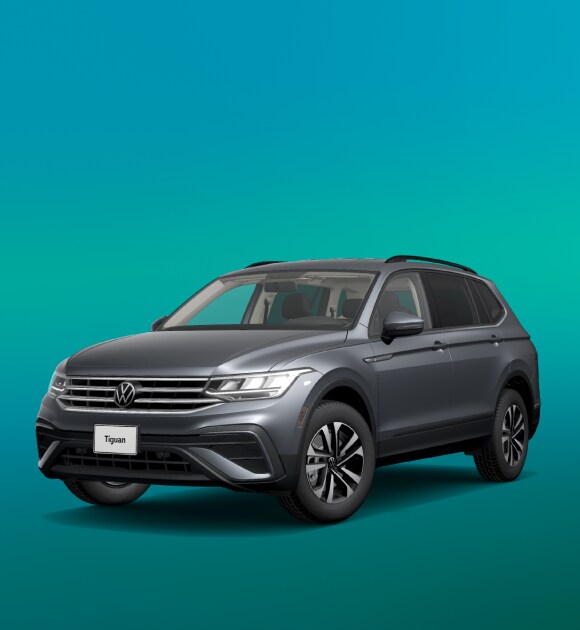 2023 Volkswagen Tiguan S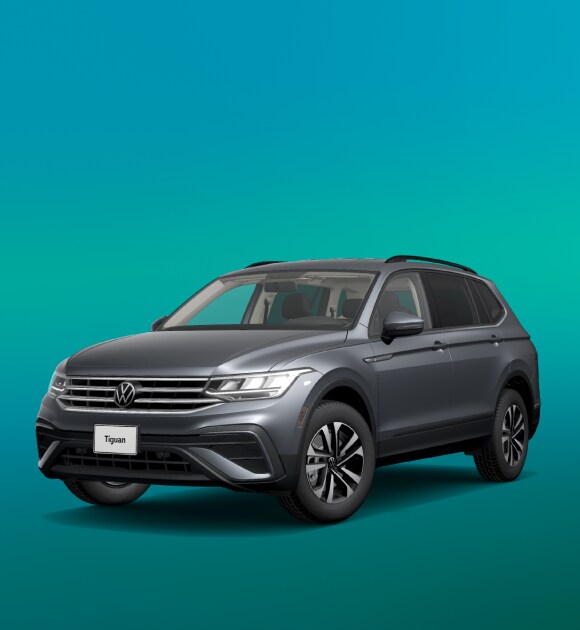 The S version of the 2023 Volkswagen Tiguan for sale may be the entry-level trim, but it is rife with comforts and luxuries. The front row of seats is heated, and the SUV has keyless entry with a push-button start. This is more secure than a traditional key entry, which helps deter theft. The SUV also boasts four different drive modes for tackling whatever obstacle you come up against: Snow Mode, On-Road Mode, Off-Road Mode, and Off-Road Custom Mode. If you enjoy venturing off the beaten path, your new VW Tiguan will have your back.
This version of the car also features blind-spot monitoring that helps you stay safe on the highway and front assistance, a feature that detects possible collisions and warns you before they happen. Safety features are no substitute for attentive and safe driving, but they are certainly nice to have.
2023 Volkswagen Tiguan SE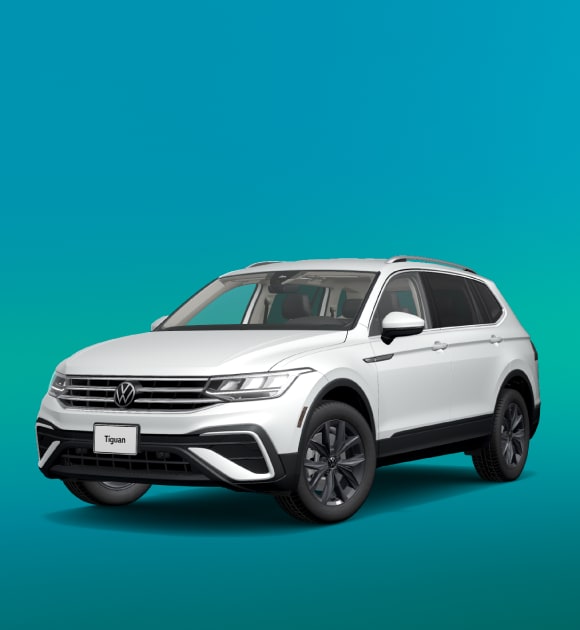 The mid-range trim for the VW Tiguan is called SE. Drivers can purchase the standard SE trim or the SE R-Line Black, which features unique black aesthetics, boasts a custom R-Line leather-wrapped steering wheel, and comes standard with the panoramic moonroof. The normal SE version of the car has wireless charging, V-Tex leatherette upholstery, and a remote start function.
This trim offers drivers great value for their hard-earned money. It's a compelling trim to consider for our VW Tiguan lease deals near Boca Raton, FL. Leasing a car differs from purchasing one because you're effectively renting the vehicle for a few years. It's a great way to drive a brand-new car for a competitive monthly payment and a short-duration commitment. Reach out to our friendly staff if you'd like to learn more about leasing a 2023 Volkswagen Tiguan for sale from our dealership.
2023 Volkswagen Tiguan SEL R-Line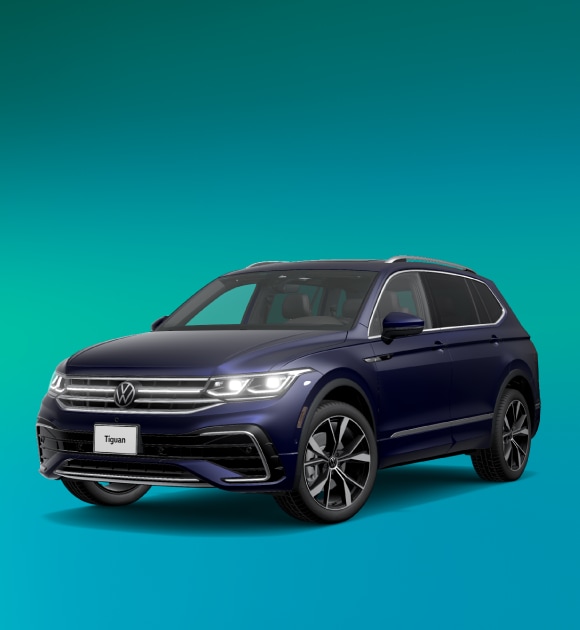 The premium SEL R-Line trim for the Volkswagen Tiguan for sale comes standard with impressive features. It boasts leather seating, ventilated front seats, 20-inch alloy wheels with all-season tires, powered folding and heated mirrors, a premium sound system, and VW Digital Cockpit Pro. You'll enjoy the luxury styling of the 2023 Volkswagen Tiguan SEL R-Line. Your neighbors might get a little jealous of how good it looks in your driveway, too.
These features offer something for everyone. The kids will enjoy being enveloped in music by the premium sound system, while you and your front-seat passenger will be thrilled by the heated and ventilated seats that keep you comfortable no matter the season. Driver assistance features, such as the Dynamic Road Sign Recognition system, help you stay safe on the road in Delray Beach, FL. This top-of-the-line vehicle is a great fit for families.
2023 Volkswagen Tiguan Colors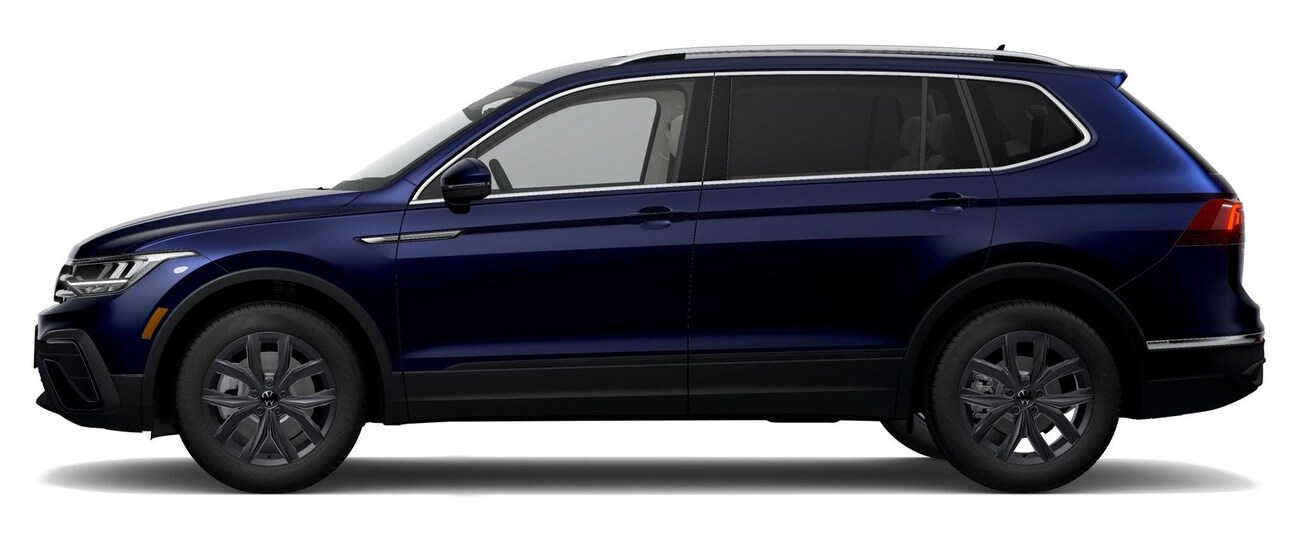 Atlantic Blue Metallic
Atlantic Blue Metallic
Volkswagen Tiguan Safety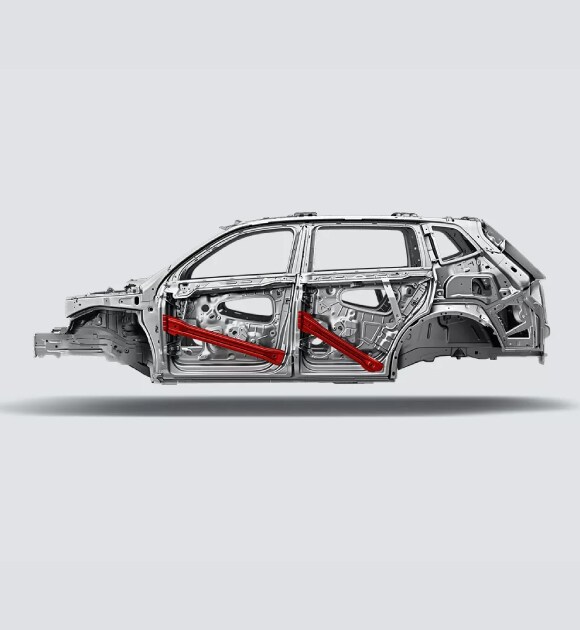 2023 Volkswagen Tiguan Safety Rating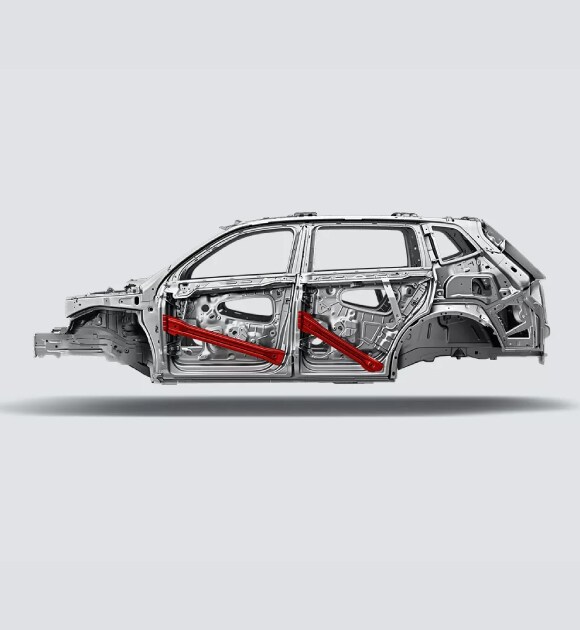 The VW Tiguan is an Insurance Institute for Highway Safety (IIHS) 2022 Top Safety Pick.2 Winning this tremendous accolade last year was quite an achievement for this sleek VW SUV. The car is well-rated for collisions from every direction. While we hope this will never come into play for you, you can't put a price on peace of mind. Since the VW Tiguan lasts so long, the car you buy today for your young family may be the first one you give to your teen. It will be nice to know that VW safety technology endeavors to help keep them safe, too.
Part of the vehicle's excellent safety rating stems from its lineup of standard safety technologies. Automated emergency braking and blind-spot monitoring technologies support drivers navigating the roads and highways near Boca Raton, FL. The IIHS Top Safety Pick award is yet another reason you'd do well to consider our Volkswagen Tiguan for sale.
Volkswagen Tiguan Reliability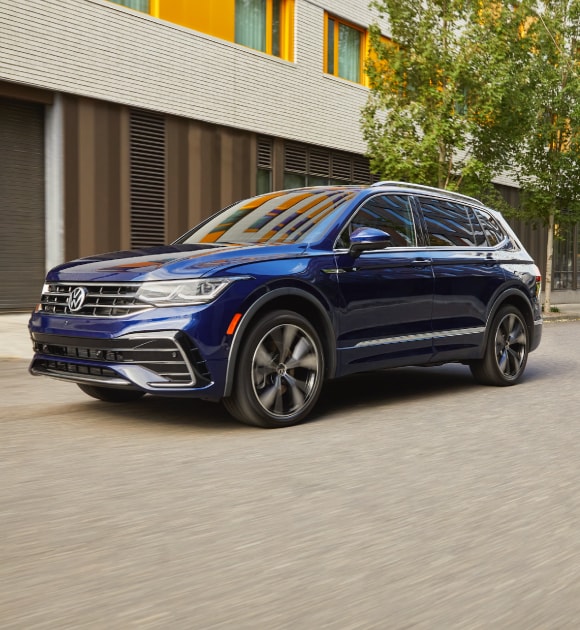 Volkswagen automakers build vehicles that are meant to last. Barring accidents and the like, your vehicle will easily crack the 150,000-mile mark with regular maintenance (and a little bit of luck). Down here in sunny Florida, we don't have to worry about ice and road salt corroding the bottom of our vehicles. This helps extend the life of cars down south; it is not unheard of for a VW Tiguan for sale to cross the 200,000-mile mark – or even the 250,000-mile threshold.
When you do need maintenance performed on your vehicle, you'll find that our dealership is a great place to get it done. Repair is easy to do with a VW Tiguan, as they're well-designed and easy to work on. The 2023 Volkswagen Tiguan will serve you and your loved ones well for many years.
Volkswagen Tiguan Airbags and Safety Features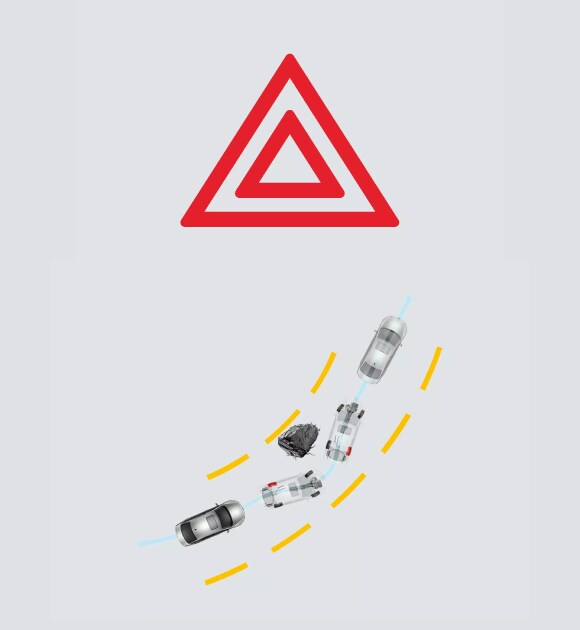 The airbags are just one part of the physical safety features included in the VW Tiguan for sale. VW has designed what they call the Safety Cage, which comprises front and rear crumple zones designed to protect passengers in the event of an accident. The rigid frame directs force away from the occupants of the car, which folds up around them instead of seeing the cabin crumple.
VW has also included its Intelligent Crash Response System on this SUV. In an accident that deploys the Volkswagen Tiguan airbags, this system will unlock the doors, put on the hazard lights, and turn off the fuel pump. These steps make it easy for anyone involved in the accident to exit the vehicle without having to worry about turning anything off. The 2023 Tiguan also has six stability-enhancing systems keeping you in control while on the road, an automatic post-collision braking system, and rearview cameras to help you when you reverse or just need to see what is behind you. You can have confidence in your safety in the 2023 Volkswagen Tiguan.
Volkswagen Tiguan Warranty & Maintenance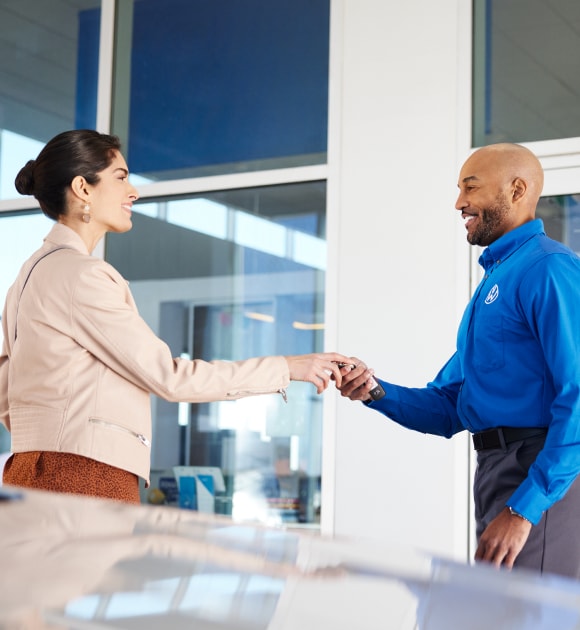 Volkswagen Tiguan Warranty Coverage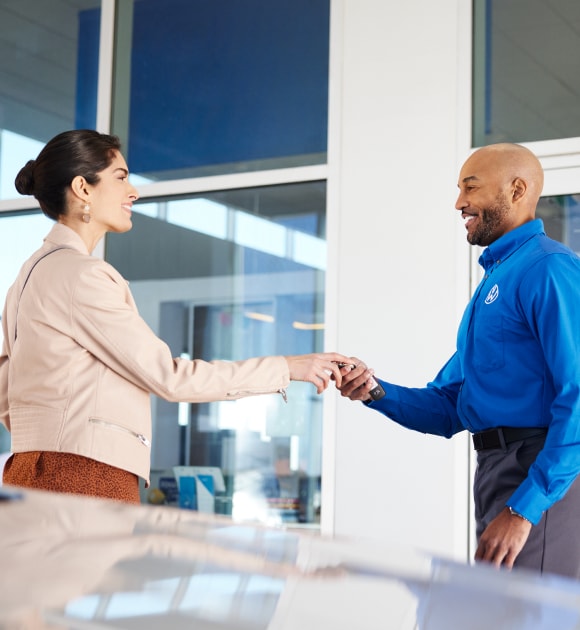 The Volkswagen warranty coverage is very competitive. Both the powertrain warranty – which covers the engine, drivetrain, and transmission – and the limited warranty last for four years or 50,000 miles, whichever comes first.3 VW automakers also include complimentary scheduled maintenance for two years or 20,000 miles.3
This excellent coverage is another reason to consider a compelling 2023 Volkswagen Tiguan. As we have seen, these vehicles offer dynamic performance, a fantastic lineup of luxury features, and comprehensive safety technology. If you have any remaining questions about this bold VW SUV, don't hesitate to get in touch with the friendly team at our dealership in Delray Beach, FL. We can set you up with a test drive today.
Volkswagen Tiguan Maintenance Schedule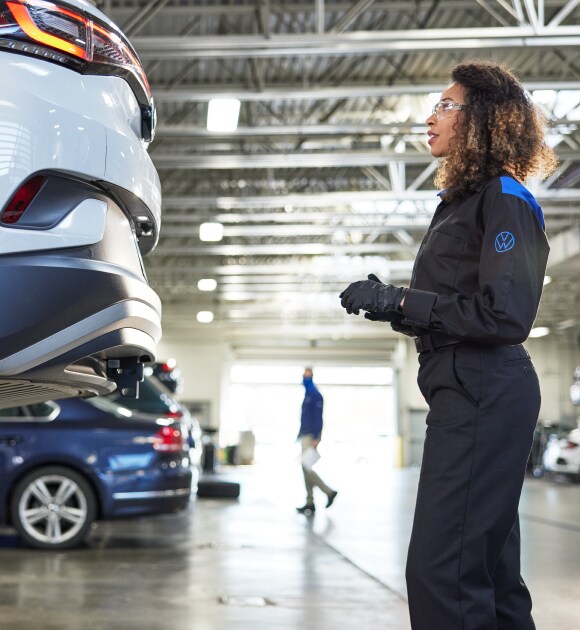 The 2023 VW Tiguan maintenance schedule is not particularly hard to follow. You'll want to get your oil changed and filter cleaned after traveling 3,000 to 5,000 miles if you use conventional oil. Make sure to check the owner's manual and consult with us about keeping up with the complimentary scheduled maintenance for your vehicle – you don't want to miss a free oil change, after all.
There are a few other things you'll want to keep up with besides oil changes. Regular tire rotations and fluid top-offs are important, too. You'll want to consult your owner's manual and our expert technicians about when to address these routine items. Past that, paying attention to how your vehicle handles and proactively investigating anything that might be a problem is the best way to keep your vehicle running smoothly.
Volkswagen Tiguan Life Expectancy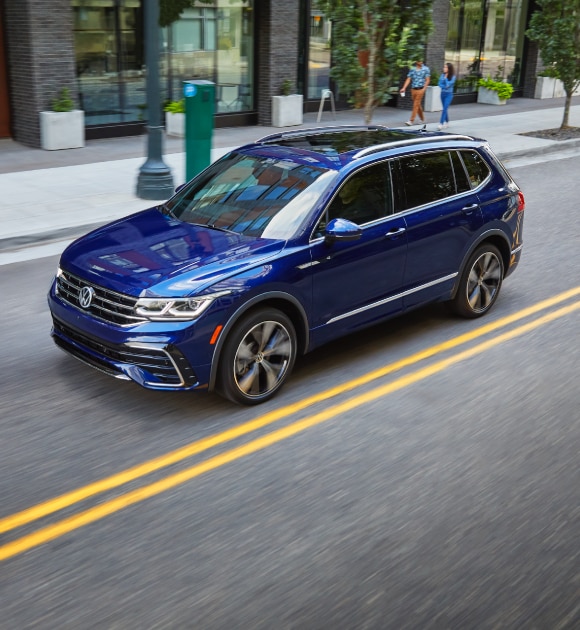 The 2023 VW Tiguan for sale is a durable vehicle that is designed to last a long time. As we noted above, it's not unheard of for a VW Tiguan for sale to crack the 200,000-mile mark, or even 250,000. If you want to join that club, you must keep up with regular maintenance. Even if something happens, however, VW parts are easy enough to find and replace.
If you're buying this vehicle today for your growing family, you may find yourself handing the keys to your teenager in a decade after they pass their driver's test. The VW Tiguan will serve them well, too, with its spacious interior and great range of standard safety technology. They're also very fun to drive around near Boca Raton, FL.
Volkswagen Tiguan Competition
There are a number of vehicles in the same size class as the Volkswagen Tiguan for sale. For example, the Volkswagen Tiguan and Subaru Forester are both compact crossovers, but the VW Tiguan can fit seven passengers, whereas the Subaru Forester only has room for five people. The versatility of the VW Tiguan is a great asset for drivers in Delray Beach, FL. It also has a greater range of features – heated front seats are not standard on the base trim of the Subaru Forester, for instance.
Our next comparison is the Volkswagen Tiguan vs. Mazda CX-5. The Mazda SUV does not, of course, seat seven like the VW Tiguan for sale does. It only has 59.3 cubic feet of cargo space with its rear seats folded down, compared to 73.4 in the 2023 VW Tiguan. If you like being able to haul stuff and people around in style and comfort, the VW Tiguan is the way to go – it holds more of both, after all.
The Volkswagen Tiguan vs. Honda CR-V matchup is a good one to consider, starting with the fact that the Tiguan seats two extra people. The passenger volume comparison between the two cars shows that the 2023 Honda CR-V has 104 cubic feet of space, while the VW Tiguan has 124 cubic feet. Outside of this, the cars are fairly similar; each uses a turbocharged four-cylinder engine. The VW Tiguan has a better array of standard features, with goodies like standard heated front seats.
The last matchup we'll consider here is the Volkswagen Tiguan vs. Audi Q5. The Audi is a luxury crossover SUV, which means it's more expensive than the VW Tiguan. It also only seats only five people. The Audi logo on the vehicle is sure to attract some positive attention from passersby in Delray Beach, FL, but the Volkswagen Tiguan for sale offers better value for your hard-earned money. You get great luxury features like the VW Digital Cockpit without paying luxury manufacturer prices.
2023 Volkswagen Tiguan FAQ
Do 2023 Tiguan SUVs come with free maintenance?
The 2023 Volkswagen Tiguan would be a new Volkswagen vehicle and automatically become part of the VW Carefree Coverage program.3 This program includes scheduled maintenance and limited warranties determined by the program terms and conditions. See the program details for more information about how you can take advantage of included maintenance services.
What trims are available on the 2023 Volkswagen Tiguan?
Choose your perfect Tiguan from one of four trim options.
S
SE
SE R-Line Black
SEL R-Line
Each of these trims has its own array of features inside and out. From driver assistance and premium technology to comfy seating and stylish paint, there are plenty of things to explore in each 2023 Volkswagen Tiguan trim.
Is the new Tiguan FWD, AWD, or RWD?
This performance-ready SUV comes in standard FWD or available AWD options. Take the adventure from the streets off the road with ease in a new 2023 Tiguan. An abundance of other performance features adds to the capability of this sporty SUV.
Volkswagen Tiguan Reviews
Kelli Grim

12.16.2021

I had a great experience at Gunther Volkswagen Delray Beach. Chris was so helpful and charismatic, he really made finding my perfect car fun. He knew all the specs and small details about multiple vehicles, I found it easy to have conversation with him that didn't once feel like aggressive salesman talk. When it did come time to talk business, he was professional and able to help me gest the best possible deal. He pushed for me beyond what was comfortable and I really felt like he was on my team during the whole process. I also got a great trade in value for my older car. As a young woman going through the car buying process for the first time, I feel confident I made the right choice and got the best deal. I am now the proud owner of a 2022 Tiguan, and I LOVE it! Shout out to the finance director for staying late past closing time just to explore ALL possibilities that sealed the deal for me to bring it home.
Drew M.

12.16.2021

Luke is the best salesperson I have ever worked with. I came in looking for a Jetta and left in a Tiguan. He was very in depth and put me into the vehicle I needed. If you want someone that really listens and puts full effort towards you, see Luke. Most of my experiences in dealerships have been horrible but Gunther made me feel right at home. Thank you Luke and Gunther Volkswagen!
Toni Reisch

02.27.2022

Have never had any negative experiences with Gunther Delray. No matter the reason I'm there. Been a customer for 7 years and will continue to be one. My recent 2022 VW Tiguan SE purchase went seamlessly. Just love everyone! Thank you Beau for your expert salesmanship.
View Other Recommended Volkswagen Vehicles For You: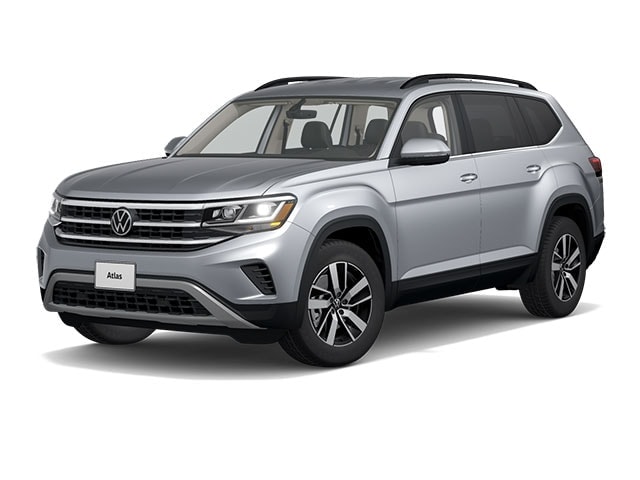 VW Atlas For Sale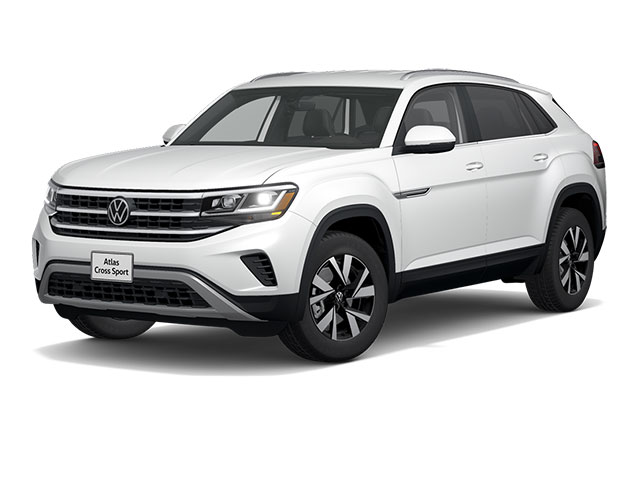 VW Atlas Cross Sport For Sale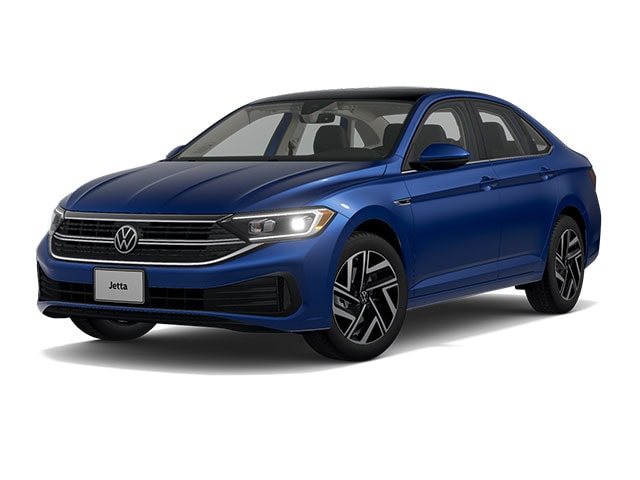 VW Jetta For Sale
---
1EPA estimates only. Your results will vary.
2Reference to this third-party claim is solely for informational purposes and not to be relied upon. For details regarding this award, visit www.iihs.org
3Carefree Coverage available on all new MY23 vehicles. For vehicle eligibility details, visit vw.com/coverage. VW's Carefree Maintenance Program provides 10,000- and 20,000-mile scheduled maintenance services or scheduled maintenance services for two years (whichever occurs first) as stated in the vehicle's maintenance booklet. Does not include tire rotations, or other services or parts not specified in the owner's literature. 3 years/36,000 miles (whichever occurs first) Roadside Assistance provided by a third party. 4 years/50,000 miles (whichever occurs first) New Vehicle Limited Warranty. See owner's literature or dealer for warranty, maintenance program, and roadside assistance details, exclusions, and limitations. Car-Net Remote Access services require cellular connectivity, GPS signal, and acceptance of Terms of Service. Not all Car-Net services and features are available on all vehicles. Other Car-Net services require a trial or paid subscription. See additional important information at carnet.vw.com.