Volkswagen Electric Van Release Date, Interior, Exterior & Specs
Home
>
New Volkswagen Inventory
>
Volkswagen ID Buzz Electric Guide

If you're a lover of the fun-loving Volkswagen brand, then you're going to love the forthcoming VW electric bus. Known as the VW ID.Buzz, this page will take you through the latest specs as we're allowed to release them. With many similarities with its cousin, the VW ID.4 electric SUV, the VW ID.Buzz will help you get funky in ways that only one other vehicle could.
From VW Microbus to MEB
The notion of a VW electric van was lightyears away from those original designs for the VW Microbus. Those iconic models are tied to fun-loving adventure, RWD, and a rear-mounted air-cooled engine that fought for your attention inside the cabin. Times most certainly are changing, and the 2024 Volkswagen electric bus will land on our shores in 2023 with a sublimely quiet & highly configurable cabin. Let's take a look at some of the highlighted features that we're allowed to share so far:
MEB Architecture - This innovation from the Volkswagen brand becomes the platform upon which all EVs will be built in the near future. With the reported availability of a 110 kWh battery, the VW electric van is targeted to see an estimated range of about 340 miles.1 All models will be fast-charge ready, and you can plan on getting back to feeling groovy in as little as 30 minutes at an 80% charge.


A Modern Zen Cabin - The VW electric bus interior will be a special place. Current test vehicles seat up to seven people, but the cabin is yours to configure as needed. Seats will slide, fold flat into beds, swivel, spin, or can be removed completely. Right in the heart of all that action is an innovative table system that can also be slid where needed. Panoramic glass roofing will be the name of the game and will let the sunshine in, just like the 22 window VW Microbus of old.


Safety & Tech - Exact details are lost in a purple haze, but the VW brand's next generation of autonomous driving is expected to make its appearance. After all, why would the VW electric bus have that trippy steering wheel that sinks itself into the dash? The fun smartphone connectivity seen on VW vehicles through VW Car-Net is also expected to be part of the package. Inquire more with a VW EV specialist for the latest.


The 2024 VW electric van will be available to reserve in the near future, so check back to this page frequently for updates. If you can't wait that long, why not reserve the VW ID.4 and get in on the EV fun today?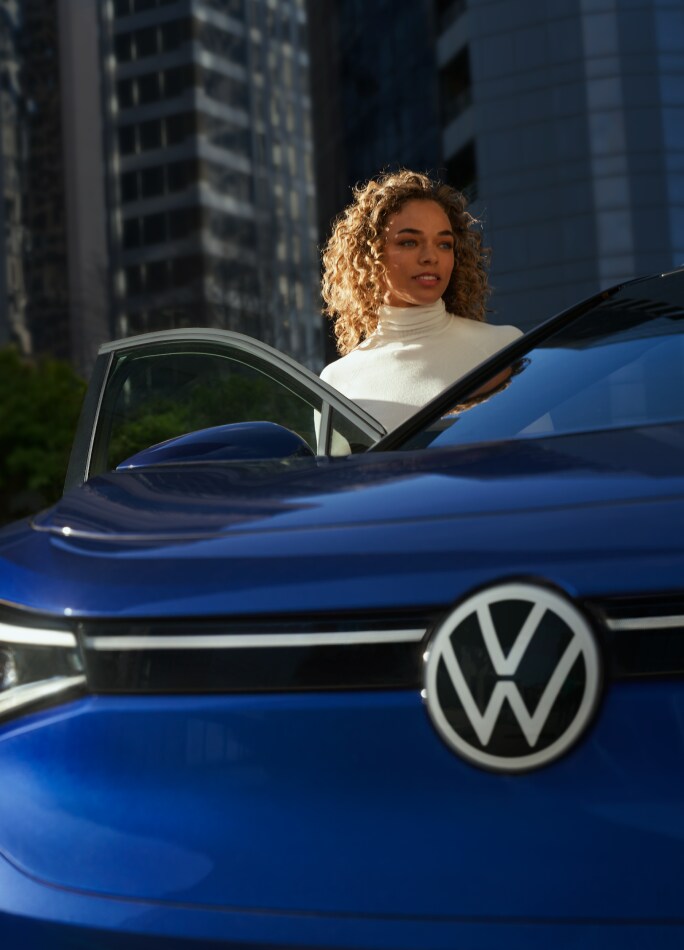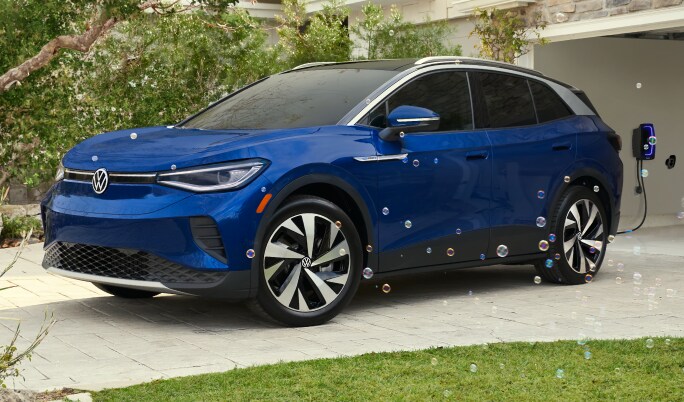 More Freedom With the VW Electric Van & Other EV Benefits
VW ID.4 models currently come with three years of complimentary charging through Electrify America. We'd expect a similar program to be in place with the Volkswagen electric van, also known as the VW electric Buzz. Beyond the scope of whatever the manufacturer can offer as an incentive, there's some pretty fantastic news for EV owners that might shock you.
At the time of our writing this page, 47% of the DC charging stations in our city are available to use without any cost to you. Our nation's EV infrastructure is going. So imagine how many should be available within the next two years. This fact is important because you don't have to worry about any hassle charging your VW electric bus. When's the last time you've seen a no-cost gas station?
VW Electric Bus FAQs
Coming at you with more energy than a bus full of VW electric parts, we're happy to offer up some of the most common FAQs that we get around here regarding the newest icon from the brand you love.
When will the VW electric bus be available?
We'll be taking reservations soon for the VW electric bus, but the first available units will make their debut in 2023 (as 2024 year models).
How much will the new VW electric bus cost
The Volkswagen brand will do what it's always done — make sure that almost anyone who wants one can have one. With so many benefits like no-cost national DC-fast charging and the likelihood that the VW electric bus will qualify for the federal EV tax credit, a better question is how much will the VW bus save me?
What is the range of the Volkswagen Electric Buzz?
Using the Volkswagen brands' scalable MEB platform, the VW electric bus makes use of a 110 kWh battery with a projected 340-hp.1
When's the VW Electric Bus Release Date?
We love giving loads of helpful information to our customers. Like where to go for no-cost EV charging, how buying or leasing here gets you 3yr/36k miles of complimentary maintenance, and even what that curious VW EPC light is all about. No matter the need, we're here to help. And from all of us out here under the palm trees, we can't wait to help see you off in your 2024 VW electric bus.
Want To Know More About The VW ID Buzz? Contact Us!
* Indicates a required field
---
1Estimates based on the European WLT cycle. EPA estimates currently unavailable.