Volkswagen Atlas MPG & Fuel Economy

If you've been looking for an SUV that can fit your whole family but are worried about what it's going to cost you at the gas pump, look into the VW Atlas MPG numbers. The 2022 version of this three-row SUV seats up to seven individuals, has 20.6 cubic feet of cargo area when all of the seats are in use, and offers an EPA-estimated 21/25 MPG (city/highway)1 when you choose the standard 235-horsepower, 2.0-liter turbocharged 4-cylinder engine and front-wheel drive. This is impressive considering its size. To learn more about Volkswagen Atlas gas mileage, read on.
What Can You Achieve With Your VW Atlas Gas Mileage
When you choose the standard engine and factor in this SUV's 18.6-gallon capacity fuel tank, it means that you could theoretically drive for 465 miles without having to stop for gas. If you start in Delray Beach, FL, you could possibly visit New Orleans on two tanks of gas; not to mention all the road trips you can take to closer destinations. This can be a great opportunity for family bonding.
Considering this vehicle's other benefits — like Climatronic 3-zone automatic climate control, available panoramic sunroof, available Fender® Premium Audio System, and VW Car-Net Hotspot capabilities — you'll be able to get out to explore the world while enjoying similar comforts as those found in your living room.
You can also opt for the vehicle's available 276-horsepower, 3.6-liter V-6 engine that gets only slightly less 24 MPG highway1 when paired with front-wheel drive. 4MOTION all-wheel drive is also available if you want additional traction on slick road surfaces or greater confidence when going off-road.
---
VW Atlas MPG

Year

EPA-estimated MPG combined/city/highway1
2022 VW Atlas
23 / 21 / 25
2021 VW Atlas
22 / 21 / 24
2020 VW Atlas
22 / 20 / 24
2019 VW Atlas
22 / 20 / 26
2018 VW Atlas
24 / 22 / 26
---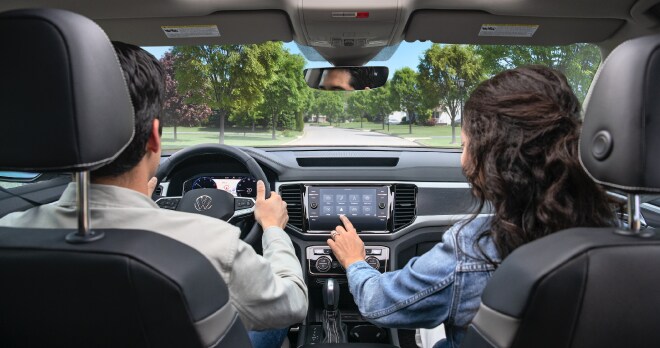 How To Make the Most of Your VW Atlas Fuel Economy
Optimizing your Volkswagen Atlas MPG depends on several factors. You should always get maintenance before heading out on a long trip. An oil change can boost performance and prevent the engine from overheating. Meanwhile, a brake and tire check will make sure you maintain the control you need on the road.
To further improve your fuel economy, avoid stop-and-go traffic and sudden braking when you can, and don't bring more items than you need as they can weigh the vehicle down. That being said, this SUV's towing capacity of 2,000-5,000 pounds is plenty to tow a wide range of stuff.2
Have Questions About VW Atlas MPG? Visit Us Today
If you're interested in the VW Atlas but have more questions about its fuel efficiency, performance, or features, visit our dealership. Our knowledgeable team keeps up-to-date on the latest models, so in addition to giving you details about the 2022 version of this car, they'll also let you know what has been released about the 2023 model.
Of course, even if the answers meet your expectations, sometimes seeing is believing. We'll set you up on a test drive so that you can see how this vehicle handles and test the driver-assistance features first-hand.
If you decide that this SUV isn't right for you, that's not a problem either. We can introduce you to another three-row SUV like a used VW Tiguan. Alternatively, the latest VW Tiguan has five seats but comes in a hybrid variant, meaning it has significantly reduced reliance on gas. We'll help you figure out which is the best mode of transportation for the next stage of your journey. Visit us today.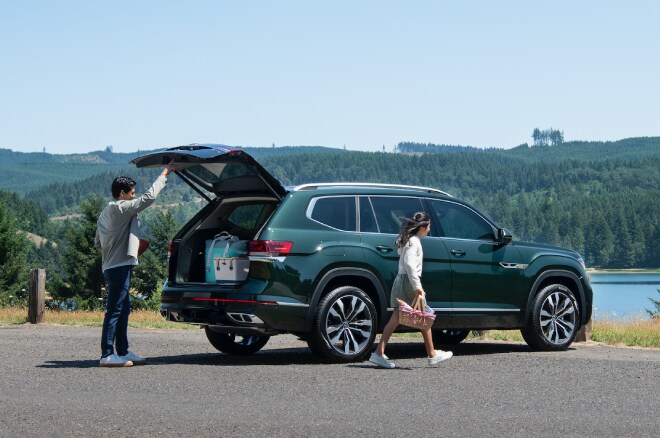 Frequently Asked Questions
Does the VW Atlas get good gas mileage?
A VW Atlas gets good gas mileage considering its robust size. Three rows of seats and plenty of cargo room make this vehicle really feel like a living room on wheels, and if you get the standard 2.0-liter, four-cylinder turbocharged engine, you'll also get an EPA-estimated 21/25 MPG (city/highway.1
Does Volkswagen Atlas need premium gas?
No, you don't. In addition to having impressive fuel economy for its size, this vehicle runs on regular unleaded gasoline, allowing you to save money at the pump in that way, too. However, if you want to get the most torque out of the standard engine option (up to 258 pound-feet), premium gas can help you get there.
How many miles can you get on a VW Atlas?
With the standard engine providing up to an EPA-estimated 25 MPG (highway)1 and its 18.6-gallon fuel tank, you can travel over 400 miles on a single tank of gas. Just imagine all the road trips you can take with your family over the years. After all, this vehicle can go for up to 200,000 miles when driven under normal circumstances and properly maintained.
---
1EPA estimates only. Your results will vary.
2Maximum tow rating when equipped with 3.6L engine and factory-installed towing hitch. Vehicle load, other accessories, and options may reduce maximum towing capacity. See vehicle Owner's Manual for details.